Parkgate Mobility Stairlift Warranty
For your total peace of mind Parkgate Mobility offer the following warranty packages on straight stairlifts*
One year plan – £180
1 year extended cover (manufacturer – plus 1 year)
One scheduled annual service visit
Priority attention in the event of a breakdown
Parts -including carriage batteries
Labour
Call out
Two year plan – £330
2 year extended cover (manufacturer – plus 2 years)
Two scheduled annual service visit
Priority attention in the event of a breakdown
Parts -including carriage batteries
Labour
Call out
*Subject to survey & terms & conditions – ask for details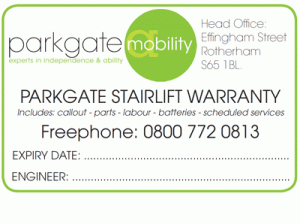 Stairlift Rental
If you are looking for stairlift rental for a short period of time then Parkgate Mobility have probably got the answer. You can hire a stairlift from us for an initial payment of just £450, this includes the cost of installation, the first months rental and we cover the cost of any repairs that you may need over the full term of your rental.

Stairlift Servicing
For information on stairlift servicing or to book a service, please call us free on 0800 2461846
Parkgate Mobility are one of the leading suppliers of stairlifts in the UK.   We recommend a full stairlift service every year to ensure that the stairlift is in working efficiently and more importantly, safe to use.  We offer a full after-care service including annual stairlift servicing and breakdown and repair assistance.