Looking to buy a stairlift? We can help
If you are interested in buying a stairlift, Parkgate Mobility should be your first choice. We fit high-quality stairlifts, both new and reconditioned. When you buy a stairlift from us, you are guaranteed a high-quality service with our award-winning backup.
Parkgate Mobility fits Brooks stairlifts, the world best selling stairlift. Since 1972, Brooks has been producing safe, reliable and comfortable stairlifts. Unlike other lifts, ours our bolted to the floor rather than causing damage to your wall.
Request More Information
Need More Info?
We have been fitting stairlifts for over 20 years.
Click the button to request more information.  We'll get back to you as soon as we can to arrange a free of charge, no obligation measure and quotation.
Request More Information
If you have decided to buy a stairlift, we are happy to provide a free stairlift quote and measure for any stairlift.  Please call us free on 0800 772 0744 or complete the form on this page and we'll get back to you as soon as possible.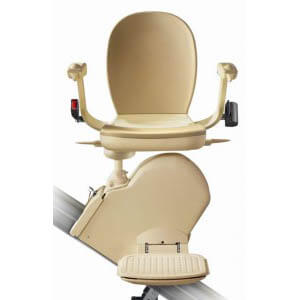 No obligation free survey and advice

Award winning customer service

The best selling stairlift in the world

Slimline, compact and ultra smooth

12 month warranty as standard

New and reconditioned stairlifts available

We are happy to provide a stairlift quote
All the chairlifts we fit are fully guaranteed for 12 months with an option to extend this if required. This guarantee includes parts, labour and call out charges. With over 30 years of trading expertise and acquired knowledge, you can be confident with the service provided by Parkgate Mobility.
As an independent supplier of stairlifts, you are guaranteed to be fitted with the correct stairlift for your needs. Our fully qualified stairlift surveyors can answer questions or queries you may have, with no obligation to buy.
Parkgate Mobility is the North of England's leading supplier of stairlifts. We have branches throughout the region so you are guaranteed a first-class service and after-care package. We cover a large area across the north of England from our local branches in Rotherham, Batley, Sheffield, Doncaster, Barnsley, Chesterfield, Castleford, Clay Cross, Long Eaton, Leeds – Stanningley, Worksop, Mansfield, Wakefield, Retford, Derby, Beeston. and Pontefract This allows us to cover South Yorkshire, West Yorkshire, Derbyshire, and parts of the Midlands.
Our fully qualified stairlift engineers can fit a stairlift in any home to your requirements. We provide a quick, no fuss stairlift installation service and can often fit a stairlift the next day.
Ready to Buy a Stairlift?
Get in touch with us using the form below or call us free of charge on 0800 7720744.
Ready to Make an Appointment?
If you are want to make an enquiry or request more details, please complete the form below.