·

WELCOME TO PARKGATE MOBILITY – ROTHERHAM

·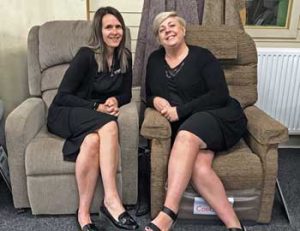 PARKGATE MOBILITY ROTHERHAM
Effingham Street, Rotherham S65 1BL
Telephone: 01709 717049
Welcome to our mobility shop in Rotherham.
The shop is our head office and also hosts our various support departments, customer care and management offices.
The Rotherham shop stocks a massive selection of mobility and self-help products from walking stick ferrules and walking aids through to mobility scooters and stairlifts. Other product include Cosyfeet wide fitting shoes and slippers, wheelchairs, powerchairs, bathlifts, bathing aids, toileting and incontinence aids, furniture and other useful everyday items.
If you are not sure if we can help don't hesitate to call us on 01709 717049
Free parking is available in our car park

Fully working demo straight stairlift in store

Debit and credit cards accepted

Thousands of products to buy and order in store

Motability accredited advisors

All of our branches are Which? Trusted Traders
Access to the Shop
The shop is located on a major bus route and offers easy outside the door parking and ramped access to the main entrance. Inside, the shop is well suited to wheelchair users and to those with mobility problems.
Find Us
Our mobility shop in Rotherham can be found between St Annes Roundabout and Parkgate Retail World on the corner of St Anne Road and Effingham Street on the site of the old comedian pub. Below is a map and directions to the shop. Our mobility shop in Rotherham is well known in the area and is located next door to the new leisure centre in Rotherham.  / Googlemap