Parkgate Mobility recognised in national customer service award

Parkgate Mobility is celebrating being named one of the UK's leading scooter and powered wheelchair dealerships in a national award that recognises outstanding service to customers of the Motability Scheme. The awards are based on direct customer feedback, and Parkgate Mobility achieved highly commended status in the large fleet category.
Across three categories – large with a fleet size over 200, medium with a fleet size between 100 and 200, and small for those with a fleet between 25 and 100 – both a winner and a highly commended accolade was awarded.
Tracy Simmons, Business Manager, Parkgate Mobility, commented:
"We are thrilled to be recognised as highly commended in such prestigious awards for our customer service and delivery of the Motability Scheme. This accolade is testament to our fantastic people who are passionate about great service. We would like to thank all our customers for their feedback."
Read More
Stairlift Warranty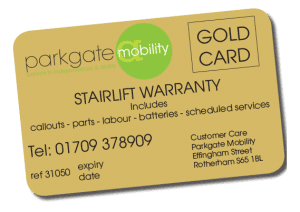 Did you know that what seems like a simple repair like a set of new batteries can cost as much as £70, plus £55 callout charge?  Our stairlift warranties cover the cost of these repairs and the callout charge.
Once one of our engineers has checked your lift, you will have the choice of a two year, or three year package for complete peace of mind.  Please see our stairlift warranty page for more information.
Mobility Aids
We are one of the largest retailers of mobility and disability products in the country, selling mobility aids such as mobility scooters, powerchairs, wheelchairs, bathing and toileting aids, incontinence aids, health and wellbeing, pressure care cushions, wide fitting shoes and other self help equipment.
We also provide complimentary mobility scooters and wheelchairs for shoppers at Meadowhall shopping centre in Sheffield.
Stairlifts
If you are interested in buying a new stairlift, renting a stairlift or second hand stairlifts, Parkgate Mobility can help.  We employ our own engineers who can fit, repair and maintain any make of stairlift.  We also offer a stairlift breakdown service if you have any problems or need repairs.  Our engineers carry a full range of spare parts for most makes of stair lift.
Our Online Shop
Our online shop stocks a wide range of mobility aids and self help products.  Some of our best-sellers are the deluxe pedal exerciser, the therabath wax bath, the globetraveller transit wheelchair and our range of wide fitting shoes.
Request a Catalogue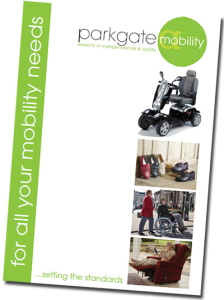 Thanks for your interest in Parkgate Mobility, if you would like any further information or to see our range of products and services please click here to request a catalogue and we'll send you one out in the post free of charge including an order form.
Our website contains more products than our catalogue, but you can order anything you see on our website using the order form as well.  Our catalogue contains all of our core products such as kettle tippers, cosyfeet shoes and slippers and our range of mobility scooters, wheelchairs and rise and recline chairs.  It also features more information on our stairlifts and more details of our servicing on both mobility scooters and stairlifts.
The catalogue is also available to pick up free in any of our mobility shops.
Click here to request a free catalogue.
We're Award Winners
ScooterSafe
We are a big supporter of events in our regions.  The ScooterSafe initiative was recognised in the Leaders in Action Awards for raising awareness of safety among mobility scooter users.  The free course has already attracted attention from other regions in the UK and throughout Europe and even as far as Australia.
Parkgate Mobility continue to win awards for both our customer service and work in the community.
Over 130 people have attended the course, which is an interactive short course set in the Lifewise centre, Rotherham.  Please see the South Yorkshire Police website or our ScooterSafe mobility scooter training page for more information.
Motability
For the second year in a row, Parkgate Mobility have received the commended award from Motability for our excellent customer care and after-sales service.  For more information on Motability, and how you can get a scooter or powered wheelchair on Motability, please see our Motability page